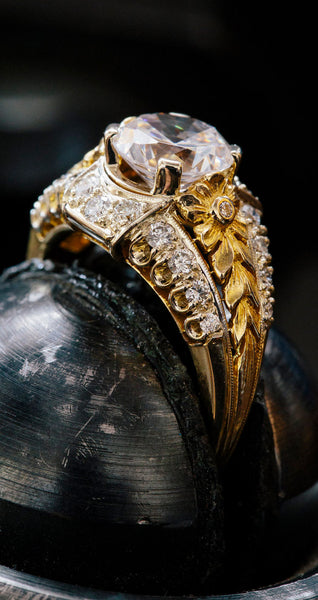 Van Craeynest designs and tools reach back to the late 19th century, both in origin and inspiration. Many of the machines and special tooling we use are over 100 years old, however, they are not the reasons for our exquisite work. Brilliance in all artistic endeavors springs from the knowledge of line, form and composition as well as a solid command of the tools and techniques used in working the medium.
Since the beginning of the company, our studio workrooms have been organized around a European style apprenticenship system. We train all of the aspiring artisians in traditional techniques of the jewelry craft, including skills for which we have no current use. It is a condition of employment here that all knowledge is passed forward to the younger or less experienced members of our staff. In this way we have kept alive for three generations many techniques which otherwise would have been lost, but which are still practiced by jewelers we have trained.
1920
Van Craeynest began in 1920 when Roger J. Van Craeynest went to work for The Shreve and Co. He apprenticed under some of the finest European master craftsmen in America, including John Wrightburg, and became a master die cutter, designer, and engraver.
1926
In 1926 he opened his own business in San Francisco with two other jewelers.
1960
Larry Van Craeynest joined the company in 1960 after studying art in college. He is dedicated to training young artisans and passing on the traditions and jewelry making techniques that were used in the Victorian Era.
The factory still incorporates a European apprenticeship system, directed by Larry Van Craeynest.
2011
The Emerson family acquires Van Craeynest San Francisco with the mission of upholding the tradition and legacy of this historical jewelry manufacturer.
2012
Van Craeynest's original home on 657 Mission Street in San Francisco is relocated to the downtown Redlands location with the help of a rickety 100-year-old elevator, specialty equipment, lifts and cranes, and several trucks..
Who We Are
Van Craeynest is proud to offer an oasis of design in a world that has forgotten the importance of knowing how to create jewelry from inside out. The combination of original designs, along with the skill and knowledge to execute these designs, results in unsurpassed quality, enduring sentiment, and breathtaking jewelry.
Simply put, Van Craeynest creates poetry in metal.
When an individual of taste and discernment desires a truly elegant, handcrafted piece of jewelry, Van Craeynest is the only option.
Since our beginnings in the first part of the last century, we have been creating the finest jewelry available. We have kept the original traditions of jewelry making alive.
Each piece is hand crafted, by means of chasing, carving, engraving, and die-striking, to create the finest in personal ornamentation.
The antique styles are expertly rendered exactly as the originals, to create exquisite Victorian and Art Deco engagement rings and wedding rings.