The Van Craeynest Legacy
Van Craeynest is proud to offer an oasis of design in a world that has forgotten the importance of knowing how to create jewelry from the inside out. The combination of original designs, along with the skills and knowledge to execute these designs, results in unsurpassed quality, enduring sentiment, and breathtaking jewelry.
Van Craeynest San Francisco pieces are die-struck and hand-crafted using old-world techniques and 100 year-old machines. Founded in 1926, Van Craeynest designs are inspired by the Art Deco and Art Nouveau eras that carry on the Van Craeynest Legacy.
Simply put, Van Craeynest is poetry in metal.
Learn More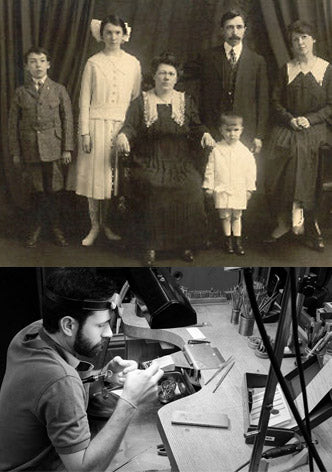 Step into the Studio Workshop at Van Craeynest. You have entered a different era where the passing forward of knowledge, skill sensibilities and philosophy becomes embodied in the work, the beautiful objects we produce. Traditions used here thrive through an Old World apprenticeship system. Many of the technologies used to produce Van Craeynest jewels are now dead arts, kept alive only through our tutelage. The tools we use are as authentic as the jewelry we create. Most of the tools in our extensive collection date to the beginning of the previous century and are the only surviving examples.